What Is The Importance Of Mobile Application Development In Today's World?
Online businesses need mobile application development. Mobile apps have transformed the company. The apps have enabled customers to get business details faster while simultaneously staying connected and updated with their favourite brands and offers. In addition to expanding business reach, apps offer massive exposure for brands.
In 2022, there will likely be 258 billion mobile application downloads, an increase of 45% over 2020.
With mobile apps becoming more popular, the industry is expected to generate approximately $156 billion in 2021 from customer app spending.
Hence, enterprises must develop mobile application development to stay competitive.
Every business needs a mobile app, whether a startup or an established brand. Staying ahead of the curve is essential. To reap the benefits of mobile application development an app, you should become a business owner.
This post aims to introduce you to the importance of mobile apps, their benefits, and more.
Here we go!
The top benefits of developing mobile apps for businesses
Here are some benefits of developing a mobile app in usa for your business.
Different platforms are accessible.
It is possible to access almost every type of online platform by developing a mobile app. With app development, you can reach markets via Blackberry, Google Play, Apple App Store, and social media sites. The apps can also send data to clients, evaluate functions, and send coupon codes.
Broaden your audience globally
Developing a mobile app marketing strategy helps businesses reach a large target audience.
Make the website more accessible.
In addition, mobile apps improve accessibility for businesses. A strong customer relationship facilitates businesses' strong customer loyalty and a genuine customer base. Apps on mobile devices provide users with real-time access to products, information, processes, and services. Furthermore, the business can send notifications about changes in products and services. Apps can be used without the internet, even without an internet connection. As a result, apps increase enterprise accessibility.
Enhances brand recognition
A business's ultimate goal is to achieve the top position. Brand awareness is essential to achieving that goal. A mobile app can help companies provide quality services more quickly.
Loyalty programs should be designed to encourage brand loyalty.
Mobile apps notify administrators of users' interest in specific offers and products. Additionally, it facilitates the management of committees to create further user-friendly plans and personalized brand loyalty.
Boost sales
Stats say customers spend more time on the company's mobile apps instead of on the company's mobile site. With mobile app development, brands can attract new customers and achieve success.
Reduce on-premises costs & transform retail businesses
Mobile apps enable retailers to deliver a unique customer experience by meeting customer expectations. Mobile apps are the basis of most businesses. By reducing overhead costs, brick-and-mortar stores can be developed more efficiently.
Manage feedback quickly
A mobile application provides clients with a convenient way to give feedback on their products and services.
Integrating social media
Integrating social media icons into your mobile apps allows your users to share their feedback across various social media platforms. Businesses can also use mobile apps as marketing tools in this manner.
Providing unique payment and service solutions
The features of mobile apps vary depending on the industry. Your app will be the best to book an appointment if you're in the healthcare, spa, salon, etc., industry.
In today's world, mobile payments are the preferred payment method. Users can receive direct payments via debit and credit cards when businesses integrate the payment options into their apps. These payment platforms have many advantages, including their speed, user-friendliness, and security.
A quick way to access the most relevant customer information
Accessing customer data is quick and easy with mobile apps. Checking out the app's review section allows businesses to analyze areas of improvement, the quality of products, and more.
Mobile Marketing
User-friendly and intuitive mobile apps help businesses market on the go. Firms benefit from apps that are equipped with multiple functions.
Engage customers more effectively through mobile application development
Brands can communicate effectively and directly with their customers using mobile applications, creating a direct marketing channel. Apps allow you to send in-app and push notifications to many customers simultaneously. Customers become loyal to your brand when they receive messages containing essential information.
Effort-saving for mobile application development
Customers benefit from mobile apps because they offer one-touch access to information and a simple purchasing process. By getting the information quickly, they save time.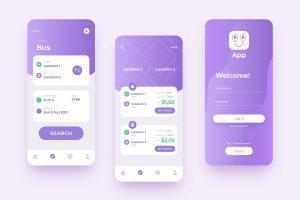 Make sure you stay up-to-date.
Using a mobile app, an enterprise can differentiate itself from the competition by generating significant profit from potent clients. You can surprise your customers with the apps.
Scheduling
Using mobile apps, enterprises can easily schedule appointments that previously required extra staff. Furthermore, the app notifies enterprises immediately, reduces errors, and automates tasks.
Final thoughts
This post is intended to be informative and helpful for you. It might be clear that developing a mobile app has many advantages.
To come up with a functional mobile app, you must follow all the necessary development steps. An app development company such as Crystal Xone can help you if you have any questions. To build a successful mobile app, you need help with every aspect.